HPC & other events
EuroHPC Summit Week 2022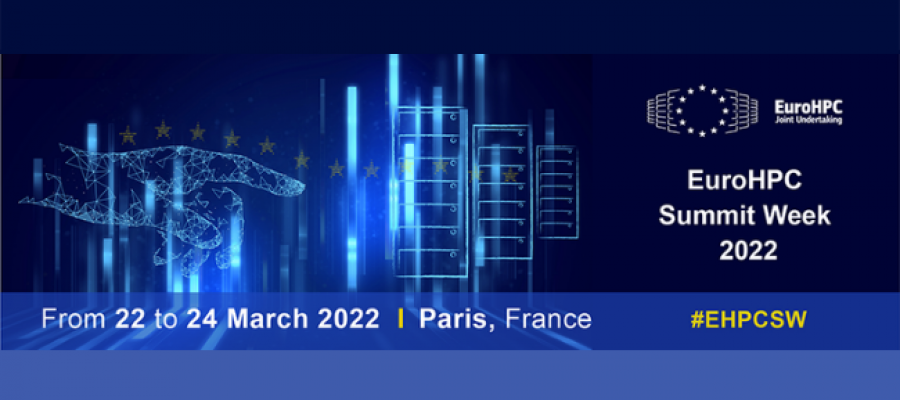 The EuroHPC Summit Week (EHPCSW) 2022 gathers the main European HPC stakeholders from technology suppliers and HPC infrastructures to scientific and industrial HPC users in Europe. As in previous years, PRACE, the Partnership for Advanced Computing in Europe, organises the eighth edition of its Scientific and Industrial Conference (PRACEdays22) within the EHPCSW 2022. PRACEdays22 will bring together experts from academia and industry who will present their advancements in HPC-supported science and engineering. The EHPCSW 2022 will provide a great opportunity for the attendees to network.
The EHPCSW 2021 Digital welcomed 1161 active event platform users out of 1337 registered profiles.
The 2022 edition of the EuroHPC Summit Week takes place in
Paris, France from 22 to 24 March 2022.
The organisers of the EHPCSW 2022 are the Partnership for Advanced Computing in Europe (PRACE), the European Technology Platform for High-Performance Computing (ETP4HPC) and HPC GIG. The EuroHPC Joint Undertaking (EuroHPC JU) and the European Commission (EC) are also involved in the organisation of the conference. The logistical organisation is supported by the local host GENCI (https://www.genci.fr/en ).
The main conference takes place from Tuesday to Thursday and will include a selection of plenary and parallel sessions. The present Call for Contributions will define the programme of the PRACEdays22 parallel sessions.
A Call for Posters and a Call for Nominations for the PRACE Ada Lovelace Award for HPC complete the calls issued in the framework of PRACEdays22.
TREX Presentation
DESIGNING A HIGH PERFORMANCE AND PORTABLE LIBRARY (QMCKL): ONE OF THE MAJOR CHALLENGES ADDRESSED BY TREX CoE - A. Scemama, V.G. Chilkuri (Univ Toulouse), P. De Oliveira, C. Valensi, W. Jalby (UVSQ)