Gain Insight into Strongly Correlated Materials with Our Upcoming Scientific Workshop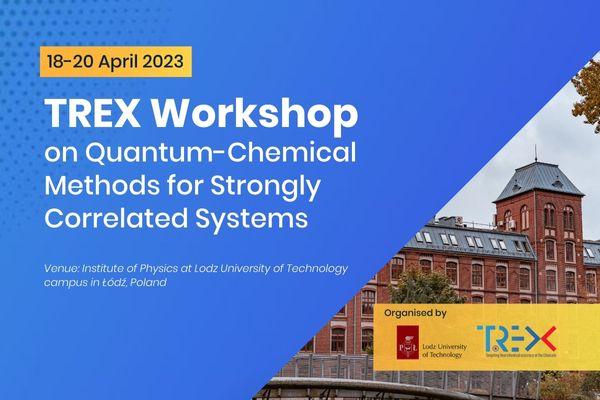 Leading experts in quantum chemistry and electronic structure methods will be gathering at the upcoming TREX workshop on "Quantum-Chemical Methods for Strongly Correlated Systems". The event will take place from 18-20 April 2023, and will be hosted by the TREX Center of Excellence and Lodz University of Technology.
The workshop aims to bring together researchers from academia and industry to share their latest findings and discuss recent developments in quantum-chemical methods for strongly correlated systems. Strong correlation effects pose a major challenge in many areas of chemistry and materials science, and the workshop will provide an in-depth exploration of the latest developments in electronic structure methods for strongly correlated systems.
The event will feature talks and presentations by renowned scientists in the field, as well as interactive discussions and networking opportunities. Attendees will have the chance to learn from our team of expert speakers and tutors who will provide them with a comprehensive understanding of the subject through a combination of lectures and tutorials, paying special attention to high performance computing.
The TREX Center of Excellence is a leading centre for research and innovation in quantum chemistry and materials science. The centre is committed to advancing the field through cutting-edge research, training, and collaboration, and the upcoming workshop is just one example of its commitment to this mission.
Share this event flyer with your colleagues who are interested in joining this event.
For more information on the workshop, including registration details and the full list of speakers, visit the TREX website.