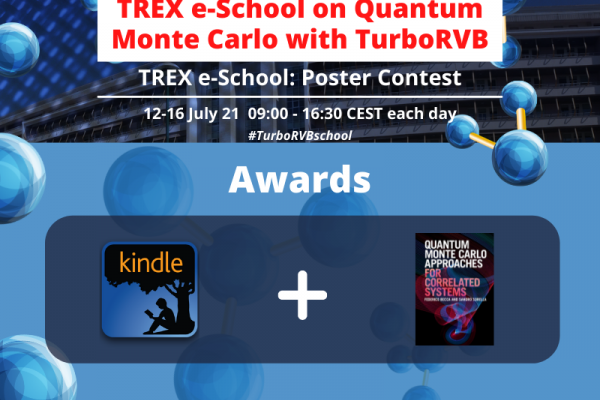 Take part in the TREX e-Summer School: Call for posters
On 12-16 July 2021, TREX is organising a joint e-summer school in partnership with the International School for Advanced Studies (SISSA) and with the Psi-K network. TREX e-summer school offers an inclusive platform for all stakeholders to share results and innovations that you would like to share with TREX and the community of students, researchers, HPC actors, and the high-tech industry.
Students, HPC experts and researcher are invited to submit their poster contributions and present results and ongoing activities at the TREX e-School. Exciting prizes await the winners:
Deadline of submission is on 12 July 2021, 17:00 CEST.
The posters will be judged by a jury of experts combined with an online voting system involving the whole community. The voting system will be announced during the event. The winning poster will be announced and promoted during the closing plenary of the TREX e-School and a chance to win a prize on 16 July, and included in the event proceedings shared  with all TREX e-School attendees and stakeholders.
The posters will be assessed by the workshop Program Committee for their relevance to the workshop topics and their potential impact on the discussion. The following are the criteria for judging:
30% - Public voting (number of votes collected via the voting system - Voting will close on 15 July 2021, close of business) 
20% - Scientific appeal 
20% - Relevance and clarity of message 
15% - Soundness of technical content  
15% - Design, visuals and attractiveness
For the public voting, please note that only 1 vote is allowed per person. Each vote will be checked and each voter will receive a copy of their vote via email.
How to apply
When filling out your application you will be required to provide information about yourself, and provide an abstract of your poster. Posters can be uploaded in jpg, jpeg, png and pdf.